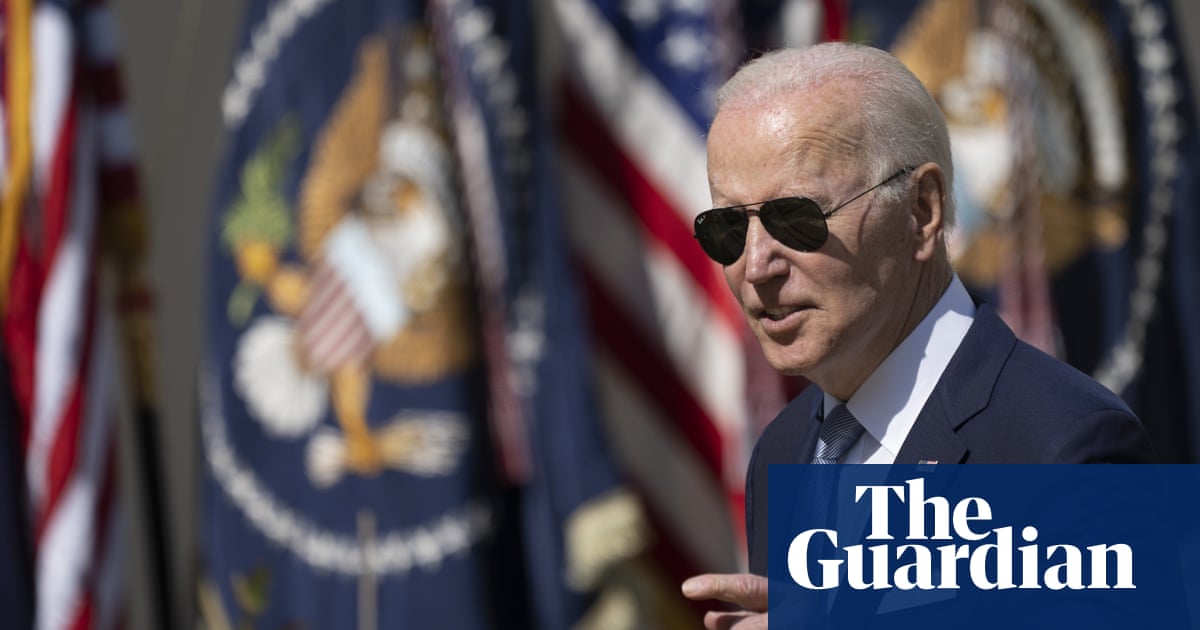 Joe Biden has announced a crackdown on "ghost guns", untraceable firearms assembled from kits that have been used in a rising number of shooting crimes.
The US president, who promised to tackle gun violence across America, said the new rule would make it easier for law enforcement to track and catch those who use illegal firearms.
"These guns are weapons of choice for many criminals," Biden said during an event in the White House Rose Garden. "We're going to do everything we can to deprive them of that choice and when we find them, put them in jail for a long, long time … If you commit a crime with a ghost gun, expect federal prosecution."
The president also announced the nomination of Steve Dettelbach, US attorney in Ohio from 2009 to 2016, to lead the Bureau of Alcohol, Tobacco, Firearms and Explosives (ATF).
Ghost guns are an increasing problem for US law enforcement. They are often assembled from kits, do not contain serial numbers and are sold without background checks, making them easy to acquire and difficult to trace.
In 2021 there were about 20,000 suspected ghost guns reported to the ATF as having been recovered by law enforcement in criminal investigations – a tenfold increase from 2016, according to statistics shared by the White House.
On Monday, Biden announced a new rule that would make it illegal for businesses to manufacture such kits without a serial number and for a licensed gun dealer to sell them without a background check. He insisted the measure was not "extreme", as the gun lobby has claimed, "but basic common sense".
He said: "Today, the United States Department of Justice is making it illegal for a business to manufacture one of these kits without a serial number. Illegal. Illegal for a licensed gun dealer to sell them without a background check."
The rule bans unserialised "buy-build-shoot" kits that individuals can buy online or at a store without a background check and can readily assemble into a working firearm with equipment they have at home. It also turns some ghost guns already in circulation into serialised firearms.
At one point during the event Biden walked over to a small table and picked up parts of a gun kit on display. "Folks, a felon, a terrorist, a domestic abuser can go from a gun kit to a gun in as little as 30 minutes," he added.
The ATF has been able to trace less than 1% of ghost guns reported by law enforcement, he added.
The administration also released an executive action to regulate "split receiver" firearms with serial numbers and background checks and to require gun sellers to maintain sales records more than 20 years old.
Last month, David Pucino, deputy chief counsel of the Giffords Law Center, told the Guardian the proliferation of ghost guns was "horrifying but not surprising".
He added: "Ghost gun companies have been resistant to any regulations and it's clear that they see their business model existing because of the legal loopholes they can exploit. They don't want to compete with the gun manufacturers that have to follow regulations.
"[States and local governments] are using the tools at their disposal but the federal government needs to step in. The longer ATF delays, more ghost guns will be available and they will be used in more shootings."
In California, where 65% of the ghost guns seized nationwide in 2020 were found, homemade guns have been used in high-profile shootings, including Santa Monica in 2013, a 2014 bank robbery in Stockton and a shooting spree in rural Tehama county that killed six in 2017.
In 2019, a 16-year-old killed two students and injured three others before killing himself with a ghost gun at a school in Santa Clarita. The next year, as protests over police violence filled city streets, Steven Carrillo used a homemade machine gun to shoot two security guards at a federal building in Oakland and a sheriff's deputy in an ambush in Santa Cruz.
On Sunday, the Senate majority leader, Chuck Schumer, said the Biden administration needed to move faster.
"It's high time for a ghost gun exorcism before the proliferation peaks, and before more people get hurt – or worse," the Democrat said, adding that such weapons are "too easy to build, too hard to trace and too dangerous to ignore".
Dettelbach is, however, likely to face a battle in a Senate confirmation presided over by Schumer. Biden had to withdraw his first ATF nominee, the gun-control advocate David Chipman, amid opposition from Republicans and some Democrats.
Republican and Democratic presidents have failed to have ATF picks confirmed. Since 2006 only one, B Todd Jones, has made it, in 2013 after a six-month struggle.
The National Rifle Association criticised the effort to regulate ghost guns and urged its members to oppose Dettelbach. "Biden has doubled down on his attempt to put a gun control advocate in charge of the agency responsible for regulating America's firearms industry," it said.
Jessica Anderson, executive director of the conservative organisation Heritage Action, added: "Biden attacking so-called 'ghost guns' will only make our communities worse off.
"A ban on homemade firearms will allow the ATF to expand their definition of a firearm and subject many law-abiding firearm owners to more burdensome regulations and duplicative background checks. These efforts will not prevent criminals from breaking the law."
from WordPress https://ift.tt/69vOC8n
via
IFTTT